BATTLE OF THE BLOGGERS Trekzone's Matt Miller and Fan Film Factor's Jonathan Lane square off in the first of three hour-long podcasts. Image/Trekzone
DECEMBER 12, 2018
Opposing Bloggers Debate Impact and History of Axanar
After Criticizing Fellow Axanar Critics Trekzone's Matt Miller Reaches Out to Axanar Proponent Jonathan Lane
Table of Contents
On a topic where discussion is often marked with vitriol and personal attacks, Axanar critic Matt Miller sat down with Axanar supporter Jonathan Lane for a series of three podcasts to civilly hash out the controversial fan film's history and impact.
The first dropped December 12, 2018, produced by Miller as one of his continuing series of "Trekzone Conversations," and posted both on his website and on Lane's Fan Film Factor blog, which often serves as the news organ for Axanar and its producer, Alec Peters.
LISTEN to part 1 of the Axanar Debate at Trekzone's YouTube channel.
No More 'Haters Club'
Lane, who stated that he rarely engages with those he calls "detractors," agreed to the debate after Miller publicly renounced his participation in groups critical of Axanar. Miller had argued that critics in the AxaMonitor Facebook group weren't sufficiently hard on Peters for charging people to see his Star Trek set during Axacon a month before.
Some in that group had inveighed against the owner of the Georgia-based sets used for the fan series, Star Trek Continues, when he opened the sets for a "fan appreciation weekend," for which he did not charge admission, in apparent contravention against the official Star Trek set tour license owned by former fan producer James Cawley.
Miller argued those critics should have condemned Axacon's set tour as stridently as they had the free fan appreciation weekend. That disagreement led to what he called " the end of my daily participation in the former Axanar hater's club."1)
"Naturally, I was intrigued" by Miller's departure, wrote Lane, who had covered another disillusioned "detractor's" departure several months before,
"If departures like [this] were starting to spread to others," Lane said, "that sounded like something worth reporting on. So I reached out to Matt to ask if he'd be willing to have a quick chat, on the record, about his feelings toward the Axanar detractors, particularly those on the Axamonitor Facebook group."
That led to their agreement to interview one another. They decided in advance on the topics and questions.
---
It was apparent, however, that Lane was better prepared for this topic (particularly since he knew the question in advance), armed with facts to support his position. — 'You Schooled Me, Jonathan'
Prelude Departures
They clashed early over Miller's claim most of the people who worked on Prelude to Axanar had left after Peters decided to spend donors' money first on retrofitting a commercial studio before producing the feature-length Axanar.
By focusing on Miller's use of the term "most," Lane noted that Miller's contention was numerically incorrect,. Lane played Prelude's opening credits, counting those who remain attached to Axanar and those who have left. Among the departed Miller counted were:
Lane added another unnamed producer (possibly Jhennifer Webberley) to the list of departed crew, making a total of five but he disputed counting Burnett as having left, even though Burnett resigned in 2017.
"I'm not giving you that one," Lane said. "Robert stayed. He was going to be editing Axanar. He stayed throughout the entire lawsuit" up until the production's move to Georgia. "He didn't leave because of retrofitting the studio; he was one of those doing the retrofitting."
As he counted names in the credits, Lane concluded more than 15 cast and crew had stuck with the production versus the four he allowed Miller. "I get the word 'most,'" Lane said. "Most of the people did not leave after Prelude."
Miller replied, "It's safe to say you've schooled me there, Jonathan."
Both Miller and Lane neglected to mention Axanar writer Bill Hunt had also left the production, though he hadn't worked on Prelude. Hunt left Axanar in July 2017 but Peters never announced his departure. Hunt himself revealed his resignation four months later, immediately after Burnett did.
'You Schooled Me, Jonathan'
It was apparent, however, that Lane was better prepared for this topic (particularly since he knew the question in advance), armed with facts to support his position. However, Miller's original question was fundamentally flawed, while Lane's response avoided other important facts.
Which Crew Not How Many
The point of Miller's question was that the most important creative and production personnel behind the success of Prelude had departed, most of them publicly condemning Peters' mismanagement. Lane successfully shifted the argument to one of simple arithmetic rather than acknowledging that any production that loses two directors, three writers, an editor, two producers, a cinematographer and other key cast and crew faces an incredible challenge in duplicating the success of its preceding production.
Departed Director 'Doesn't Count'
Furthermore, while Lane's refusal to count Burnett as one who had left because of the retrofit was accurate, it elided the fact that since the lawsuit was settled in January 2017, Burnett failed to publicly commit to direct the two short films allowed by the settlement.
Burnett had in fact remained a loyal proponent of Axanar throughout its troubles, but his creative relationship with Peters had long been a strained one. Peters' co-writer on the Axanar feature script, Bill Hunt, testified in court documents about behind-the-scenes struggles about the script between Burnett and Peters, with Hunt "kind of in the middle between the two of them."2)
Even with the settlement of the lawsuit, Peters and Burnett disagreed on the form the shortened version of Axanar should take. Burnett wanted to simply produce the first 30 minutes of his feature script; Peters wanted to replicate the success of Prelude by mimicking its mock-documentary format. Peters prevailed; Burnett resigned soon after.
Regarding the cast, Lane inaccurately counted Kate Vernon (Captain Sonya Alexander in Prelude) as returning. Her representatives have refused to comment on her participation, and Peters himself has only stated he is "in talks" with her about returning. Director of Photography Milton Santiago, who resigned from Peters' financial review committee, also departed.
Lane went on to dismiss the departure of digital compositor Tommy Kraft because he was a merely a "contractor," even though many of Prelude's crew were also contractors. Kraft, who was chiefly responsible for blending live-action segments with digital imaging in Prelude, is another dissatisfied former crew member. He went on to produce the acclaimed Star Trek–Horizon for less than $50,000, a fan film that has garnered almost three times the number of views as Prelude on YouTube (9.7 million versus 3.7 million), even though Horizon was released two years after Prelude.
The Studio
Lane and Miller also focused on the history of Axanar's ill-fated soundstage, a never-completed retrofit of a warehouse in Valencia, Calif. To Miller's question about whether diverting so much of donors' money (nearly three-quarters of a million dollars) to the studio was "a step backwards," Lane replied, "Not backwards, but in hindsight a mistake," asserting Peters couldn't have known when he signed a three-year lease on the facility that everything would go awry.
Hindsight Mistake
"What are you doing today in your life that's a mistake that you'll discover two or three years later was a mistake?" Lane challenged Miller. "You can't tell me."
That rhetorical question ignores the fact that Peters had been advised by industry professionals, including Gossett, who was still director at the time, not to spend resources on a costly retrofit instead of moving forward with Axanar's production.
Ignored Advice
Gossett told the G&T Show podcast in 2016 that he pleaded with Peters to not build a studio from scratch. But, encouraged by his $1.1 million crowdfunding success, Peters went on to do so, seeing an opportunity for revenue by renting out his own commercial studio when he wasn't shooting Axanar. He had to abandon that unfinished facility in 2017 without a single frame of Axanar ever shot inside.
Lane said Peters knew what he was doing at the time because he had helped secure the lease for the studio housing Star Trek New Voyages' sets, now the officially licensed Star Trek Original Series Set Tour. Of course, New Voyages' "studio" wasn't a studio. It was a former dollar store in Ticonderoga, N.Y. Peters' claims about his role in acquiring the space have been publicly disputed by key members of the New Voyages crew.
---
« The fact CBS announced it's debuting a new Star Trek series and Paramount is releasing Star Trek Beyond probably stoked the companies' mutual desire to put a stop to Axanar. "The crowding of the market can very well be a factor that's motivating a greater desire to bring litigation." » — First Amendment lawyer Lincoln Bandlow in The Wrap, January 8, 2016
Up Front With Donors?
Lane also accurately disputed Miller's charge that that Peters hadn't been up front with donors that money from its successful $638,000 Kickstarter campaign was going to pay for the studio. Lane called it a well known plan, cited even in a Wall Street Journal article about the production. However, the only Journal article about Axanar from that time makes no such mention.
And while the Kickstarter pitch did indeed refer to the studio, the purported budget for the studio retrofit was nowhere near what the scale of the project turned out to be, as AxaMonitor reported regarding Axanar's 2015 Annual Report.
Peters even admitted In that annual report that the public perception of the Axanar Kickstarter was to "incorrectly assume that the money was to go to production costs."3) [emphasis added]
The Lawsuit
Miller and Lane also disagreed about the genesis of the infamous copyright infringement lawsuit brought by CBS and Paramount against Axanar in December 2015. Lane repeated Peters' story that he had met repeatedly with CBS officials throughout 2015, and that they had told him they'd warn him "if he crossed the line." That warning, Lane asserted, never came.
A Warning from CBS?
The truth of what happened depends on what actually transpired during an August 2015 meeting between Peters and two CBS executives. Details of that meeting have never been made public, and Lane's argument relies exclusively on Peters' own account, which appeared to have changed over time.
Lane tried to draw a distinction between Peters' story and what he dismissed as an "unattributed quote" provided by an unnamed CBS spokesman to the film industry news site, The Wrap, later in August 2015:
"CBS has not authorized, sanctioned or licensed this project in any way, and this has been communicated to those involved. We continue to

object to professional commercial ventures trading off our property rights

and are considering further options to protect these rights."

4)

[emphasis added]
Peters' response at the time of The Wrap article made no mention of his later claim CBS had told him they'd tell him when he'd "crossed the line."
Instead all he said was: "CBS has a long history of accepting fan films. I think 'Axanar' has become so popular that CBS realizes that we're just making their brand that much better."5)
Why Axanar Was Sued
The two bloggers also disagreed on why Axanar was sued in the first place. Miller pointed to an "arms race" between the large fan productions — New Voyages, Axanar, Star Trek Continues and Star Trek: Renegades — with ever-increasing amount of funding raised directly from Star Trek fans, as well as "Alec putting himself out there too much."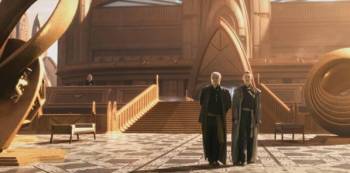 While Lane conceded that point he said the real reason had more to do with Renegades, which had raised about $850,000; that wasn't as much as Axanar's $1.1 million in crowdfunding, but large enough to raise red flags with CBS and Paramount, Lane said.
"Yes, Alec had a big, big, big ego," he said. "So did Vic [Mignogna of Continues], so does [New Voyages'] James Cawley, so did Gene Roddenberry for that matter."
But CBS and Paramount had other, more substantive reasons for suing, Lane said:
The

Vulcan Scene

looked "really really good." Not studio-quality but good enough for the forthcoming Axanar feature to compete for the paying viewers CBS wanted for its own upcoming series,

Star Trek: Discovery

.

Axanar's Klingon war-based storyline was too similar to Discovery's, "good enough potentially to fool some people."

Peters crossed the million-dollar threshold before Renegades so he got sued first. "CBS wanted no trace of Axanar anywhere," Lane said.

CBS was growing increasingly concerned about fan films, which were getting bigger and bigger. This was true, according to CBS Vice President John Van Citters, who

acknowledged

the guidelines were meant to keep the scale of fan productions at an amateur level.
Lane neglected to mention, however, that Renegades did not oppose CBS when the studio's fan film guidelines threatened Renegades' production. By comparison, Axanar did oppose CBS, going on to countersue the studios in May 2016. Renegades chose to strip all direct Star Trek references (e.g., terminology, props, costumes) from its eventually released production.
Lane's charge that high-budget fan films posed a threat to the studios was shared back during the lawsuit, also in The Wrap, by intellectual property and First Amendment legal expert Lincoln Bandlow:
Apart from the fan film being a clear derivative work of the famous franchise, the fact that CBS announced in November that it's debuting a new Star Trek series in 2017 and that Paramount is releasing the third film in the rebooted franchise,

Star Trek Beyond,

on July 22, probably stoked the companies' mutual desire to put a stop to

Axanar.

"

The crowding of the market can very well be a factor

that's motivating a greater desire to bring litigation and certainly could enhance the concern from a damages standpoint," Bandlow said.

6)

[emphasis added]
'Niche of a Niche of Niche'
Miller questioned whether fan films, as Lane characterized them really posed that level of threat. "Fan films are a niche of a niche of a niche," Miller said. "I don't know whether it would've made any dent at all…"
Lane said Axanar's 2 million YouTube views were enough to concern CBS. "They didn't want people not paying for All Access because they were seeing Star Trek elsewhere," he said. Lane claimed Discovery's viewer numbers on CBS All Access were only as much as 500,000. He would not reveal the source of that data.
Next Installments
Part 2 of the podcast was to be released December 17 and Part 3 on December 19.

---
Keywords