Table of Contents
Axanar Kickstarter Details
Main article: Crowdfunding Platforms
See also: Prelude Kickstarter Details, Axanar Indiegogo Details and Ambition vs. achievement
This is an analysis of the publicly available information about Axanar's second Kickstarter campaign, a month-long effort launched in July 2014, following release of the short film, Prelude to Axanar. The effort succeeded in raising $638,471 from 8,548 backers; its goal was $100,000. Of the three crowdfunding campaigns, this one raised the most in the shortest time.
CONTROVERSY This campaign is also the production's most controversial, as it marks the production's departure from its original goal of simply producing Star Trek: Axanar, the feature film, and instead investing a significant portion of donors' dollars in the infrastructure of Ares Studios, a for-profit venture by Axanar Productions to produce future Star Trek-related films and other science fiction properties.1)
About the Kickstarter Data
While the total amount raised in this campaign was $638,471, only $610,065 (95.6 percent) came from 8,272 people (96.8 percent of total backers) who selected rewards among the 22 reward levels offered.
The remaining $28,406 came from 276 backers who appear to have not selected any rewards, so the amount of their individual contributions were not publicly disclosed. The average undisclosed donation was about $103.
Donations Divvied Up
Consequently, the analysis below is based only on the total raised from donors who did choose rewards, for a total of $610,065.2)

This is one in a series of AxaMonitor articles examining Axanar's crowdfunding efforts, its spending, its goals and how it has reported on those activities. The entire series is listed here.
The following charts demonstrate:
Donors of small amounts (under $100) made up 86 percent of the project's backers (Figure 1).

However, those small donations made up just more than half the total raised (Figure 2).

Just a sliver of backers (24, or 0.4 percent) made contributions of more than $2,000 (Figure 1). In fact, 12 backers alone contributed $80,000 — 13 percent of the total raised (Figure 3).

Those 24 backers contributed $1 of every $5 raised from 8,272 people.

Meanwhile, mid-level donors (between $100-500) comprised only 14 percent of backers (Figure 1) but pulled twice their weight, donating nearly 30 percent of the total raised (Figure 2).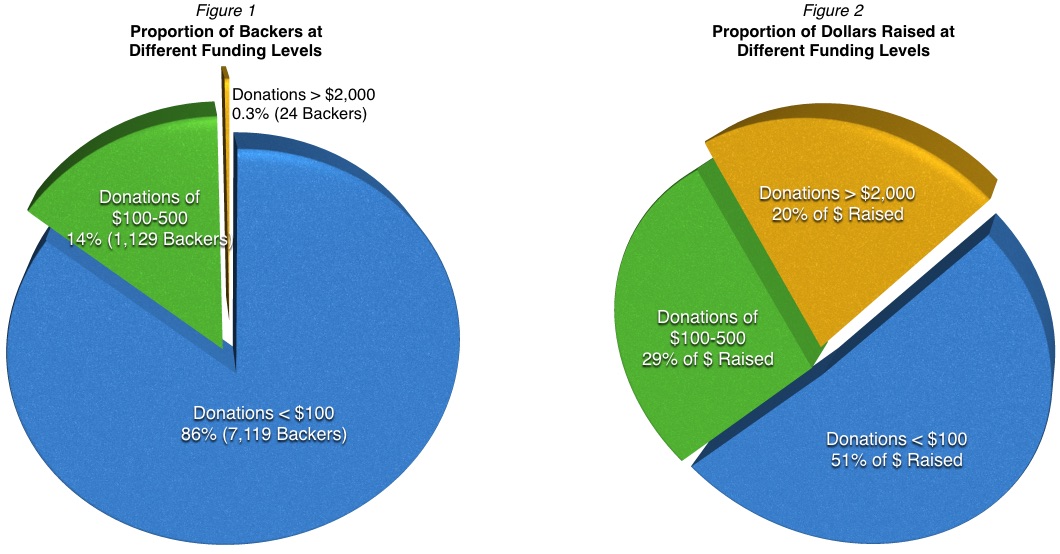 Click image to view full size
Distribution of Donors
Top 5 Rewards
Based on the data in Figure 3 below, the Top 5 rewards selected by backers were:
Amount
Reward
No. of Backers
1.
$25
Download of Axanar
2,565
2.
$75
Axanar Blu-ray
2,052
3.
$35
Starfleet 'First Fleet' patch
811
4.
$65
Axanar DVD
631
5.
$100
Signed, limited edition cast photo
475
Top 5 rewards raised $334,925 (55 percent of total) from 6,534 backers (79 percent of total)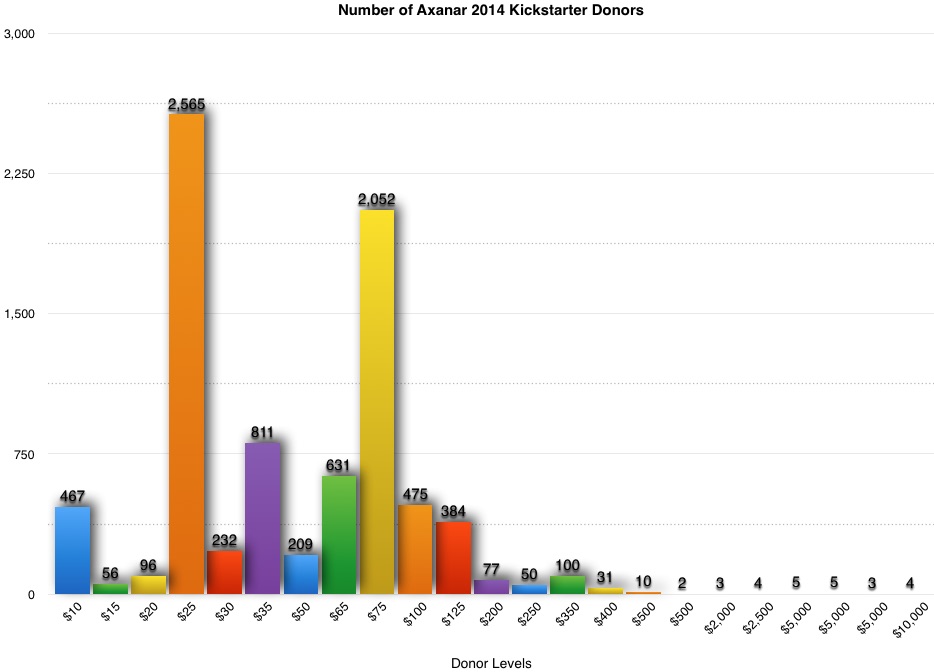 High-End Rewards
These are the rewards offered to the highest-paying contributors:
Amount
Reward
No. of Backers
$10,000
Work as producer on set
4
$5,000
Appear as Starfleet HQ extra
3
$5,000
Featured extra onscreen
5
$5,000
Name an onscreen Starfleet vessel
5
These 17 people contributed $105,000 (17 percent of the total)
Source Data
Download the source documents for the crowdfunding series of articles. The data was assembled into spreadsheets from publicly accessible information made available by the crowdfunding platforms and/or the Axanar Annual Report. Click on the citation number to access the downloadable spreadsheets. 3)
Submit Findings
Readers who make interesting findings by sorting the crowdfunding and financial data on their own are invited to submit them to AxaMonitor. Please use the Feedback page to submit new information. Thank you!
Moving the Goal Posts?
At the Outset
The 'Infrastructure Kickstarter'
First Commercial Hint
Ballooning Costs
Time to Indiegogo