Tony Todd
Why Todd Left 'Axanar'
Todd left Axanar in September 2015,1) though his departure from the project was not publicly acknowledged by Axanar producer Alec Peters for several months, even though Todd's photo remained a prominent part of Axanar's ongoing Indiegogo campaign.
Eventually, Axanar fan Michael Perles asked Peters: "Please explain to us why Tony Todd left the project several months ago."2) Peters claimed Todd left over a money dispute, and a diminished role:
Because he wanted $15,000 a day and we wouldn't pay it. And FYI, we have only begun casting. No one is signed to be in Axanar. Tony Todd would've had a tiny role, and so it has been written as another character.

3)
That "tiny role" appears at odds with how Axanar press materials about the feature's cast (still available in its e-press center) described Admiral Ramirez:
Axanar

's producers were thrilled to have Tony join the cast where he'll be able to showcase his firm determination and strength as Admiral Ramirez, supreme commander of Starfleet.

4)
'Something's Not Right'
In an interview on the Mortis podcast, Todd explained he was initially not interested in the role, and only took it after being convinced by Prelude to Axanar director Christian Gossett, who also eventually left the project:
It's a very delicate situation because when they approached me about [

Prelude to Axanar

], I didn't want to do it. I don't believe in creating content and not sharing in the residual opportunity,

5)

which is what we do. But I had dinner with

Christian Gossett

, who is the director [of

Prelude to Axanar

], who… I could look him in the eye, and he convinced me he was going to be very professional, and it was going to take just one day of my time, and I agreed based on his influence.

6)

[IMDb link added]
Asked about his departure from the project, Todd criticized Axanar's management of the project, particularly its production delays and change of directors:
It's hard for me to say too much about it, but

something's not right on that ship.

… I get a lot of interest, a lot of offers on my table, so people, certain people dragging their feet, I can no longer commit to that. I have got to move on. And then again,

when Christian left the project, that validated my feeling.

7)

[emphasis added]
Twitter Revelations
Back in December, Todd replied on Twitter to Peter's claims on Twitter: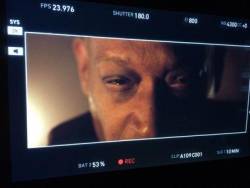 @TonyTodd54

@StarTrekAxanar since you made this personal my quote is far above 15k a day. I could no longer waste my time. #movingforward

3:02 PM - 30 Dec 2015
In that wake, and with the filing of the CBS/Paramount lawsuit, Todd publicly aired several problems that left him disenchanted with the project.
@Tony Todd54

Wish #Startrekfans all the best, but, There' are reasons I withdrew from #Axanar beyond #creativedifferences #Tellthetruth

11:45 AM - 30 Dec 2015
@TonyTodd54

#Startrekfans I left 3 months ago. No longer supportive of #Crowdfunding no accountability

12:09 PM - 30 Dec 2015

@TonyTodd54

if u know me im not intimated easily. My issues came long before lawsuit. #Axanar should've been completed long ago.

12:11 PM - 30 Dec 2015
@TonyTodd54

… Mr. Peters was never forthcoming about my leaving.

2:40 PM - 30 Dec 2015
@TonyTodd54

learned time ago only as good as weakest link. Couldn't perform w a lead [

Peters was originally slated to play the lead

] w dubious acting talents.

2:59 PM - 30 Dec 2015
Role on the New Series
In the MORTIS interview, Todd also revealed he is on the casting "short list" for CBS' new Star Trek series, due to premiere in 2017.
It's a year away. They're not even going to get official cast until, probably, the fourth quarter of the year. And my only concern about it is that it's going to be that online thing [CBS All Access]; I don't understand that part. I've never done a series regular — I've always avoided it because I like playing different characters — but this is one year that we're looking at some stuff, so I'm sure that we're going to be popping up and everybody's going to move on something real soon.

9)
---
Keywords