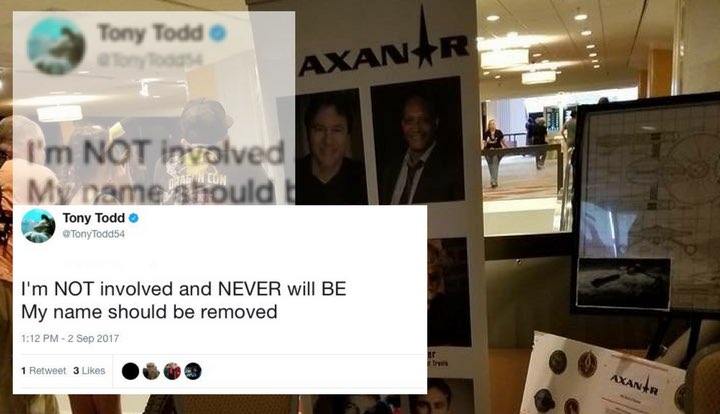 Tony Todd Wants Axanar to Stop Using Him to Sell Merch
Table of Contents
ATLANTA — Exactly two years after Tony Todd left Axanar doubting producer Alec Peters' accountability for more than a million dollars of fans' money, some fans continued to use his image to sell merchandise made by Axanar Productions. Todd was not pleased.
Dragon*Con Banner
An Axanar fan table in Atlanta's Hilton Hotel as part of the large Dragon*Con convention in September 2017 prominently featured a banner with Todd's picture under the title "Axanar," the never-to-be-produced feature film Todd walked away from in September 2015.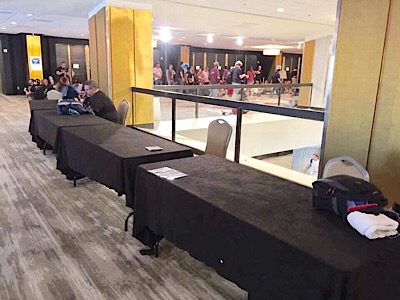 UPDATE The day after this article was posted, the Axanar fan table was no longer operating at Dragon*Con.
« I'm NOT involved [with Axanar] and NEVER will BE. My name should be removed. » — Tweet by actor Tony Todd, September 2, 2017
Why Todd Left Axanar
Todd left Axanar in September 2015,1) though his departure from the project was not publicly acknowledged by Axanar producer Alec Peters for several months, even though Todd's photo remained a prominent part of Axanar's ongoing Indiegogo campaign.
See also: Why Tony Todd left Axanar and why it took so long for fans to find out
Indeed, despite Todd's two-year-old disavowal of the long-delayed project and Peters himself, the actor's image continued to appear prominently on Axanar Productions' homepage throughout the lawsuit and even until September 2017.

Todd's Image 'Not Affiliated' with Axanar
Meanwhile, in a tweet responding to Todd, Axanar's official account claimed it had nothing to do with the fan table:
@AxanarFilm: The booth at Dragon Con is the Axanar Fan Club, which has no affiliation with Axanar Productions. They celebrate Axanar.
'No Comment'
Axanar spokesman Mike Bawden added, "As for Tony Todd's complaint over the use of his likeness to promote a project on which he worked, we have no comment."2)
Doubtful Independence
However, Axanar's supposed lack of affiliation with the fan group appeared doubtful given: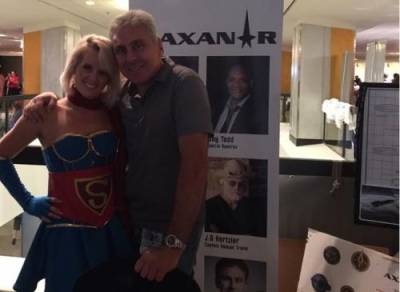 Merchandise

on display and for sale, all of which came from Axanar's

Donor Store

. While Peters had announced the formation of independent Axanar fan groups around the country, he never disclosed that he had given them his remaining stock of merchandise. That stock had been manufactured using donors' money that was supposed to have gone toward making the film.

Banner Professionally printed, displaying the Axanar logo, not the logo of an "independent" organization.

Earnings

Apart from a portion of proceeds from sales of one of the patches supposedly destined for "animal charities," the allegedly independent fan group did not disclose what it would be doing with the money it was making from sales of merchandise that could only have been supplied by Axanar itself. Even the purported charitable effort broke Dragon*Con's own rules governing fan tables (see

no sales for charity

).

Peters' participation at the fan table; he posed for photos right in front of Todd's image. He appeared untroubled by the use of Todd's photo.
Selling Merchandise
The Axanar fan table appeared to be run by long-time Axanar supporter Lee Benjamin, who is featured on the Axanar website. He displayed a variety of products, most of which used to be sold in Axanar's now-defunct online Donor Store, shuttered since the settlement of the copyright infringement lawsuit brought against Peters and Axanar by CBS and Paramount Pictures.
Sales of merchandise in the Donor Store — including coffee, books, posters, clothing, Blu-rays DVDs and especially patches — drawing from Star Trek intellectual property was one of the chief criticisms of Axanar during the copyright lawsuit.
Breaking Dragon*Con Rules?
Yet there at the fan table was a sign labeled "Axanar Swag" advertising patches on sale for $8-$24. Sales of the patches appeared to go against the convention's rules about selling merchandise at fan tables. According to Dragon*Con's website:
Fan Tables are generally non-profit groups organized by members of a particular fandom or convention. … In deference to our dealers and exhibitors who purchase a table or sponsor the convention,

no general merchandise sales are permitted at concourse tables

. You may sell items imprinted with your organization's name or logo only, such as pins, t-shirts, or bookmarks.

3)

[emphasis theirs]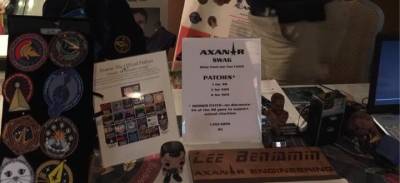 Conflicting Definitions
However, according to Axanar spokesman Bawden, the merchandise sales were cleared in advance with Dragon*Con:
Lee Benjamin has said he cleared the sale of items with Dragon*Con. [The convention] has said "General merchandise" means merchandise for sale in the dealers room, and organisations are allowed to sell items relating to their specific clubs.

4)
That didn't appear to comport with Dragon*Con's actual definition, which defined allowable sales only for items "imprinted with your organization's name or logo."5)
Disclosing Affiliation
The fan table appeared to make only a token effort to disclose its lack of affiliation with Axanar Productions, with fine print on its sign advertising patch prices vaguely stating, "Help fund our fan club." Photographs of the table showed no signage identifying itself as a separate, unaffiliated organization.
No Sales for Charity
Dragon*Con's rules also stipulate fan tables cannot collect money for charities. The Axanar "Boomer Patch" depicting the cat, Boomer, owned by Axanar's fulfillment director and Peters' former girlfriend, Diana Kingsbury — a sort of mascot for the project — was selling at the Axanar table for $8, half of which was to go to unnamed "animal charities." Dragon*Con's fan table rules state:
Charity collections are not allowed

at Concourse Tables as it may interfere with the integrity of the Dragon Con approved and sponsored charity.

6)
Deflecting Criticism
One of the tweets notifying Todd of the use of his image was posted by Star Trek Continues cast member Todd Haberkorn, who questioned Peters' claim the fan table was unaffiliated with him:
Instead of explaining how a supposedly unaffiliated fan group came into possession of Axanar-owned merchandise and signage, Peters instead attacked Haberkorn:
Dragon*Con Response
Dragon*Con had received complaints about the Axanar fan table but at the time this article was posted had made no statement.

---
Keywords