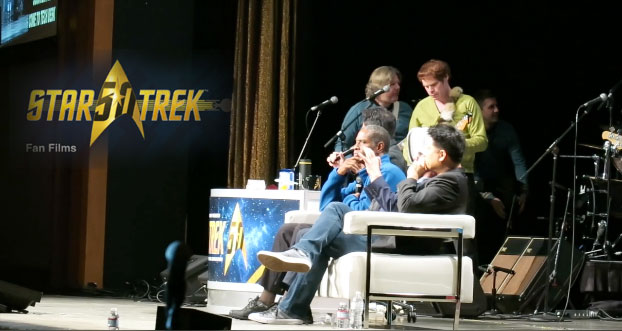 Table of Contents
What's Behind Fan Film 'Gag Order' at Star Trek Las Vegas?
Producer reportedly asked not to appear in Axanar wear
Axanar supporters claimed Creation Entertainment imposed a fan film "gag order" at the Star Trek Las Vegas convention celebrating the series' 50th anniversary year, though it appeared the restriction was tied to the copyright lawsuit against Axanar.
AxaMonitor received scattered reports on August 5, 2016, that a Creation official cut off a question about fan films posed to a panel consisting of Voyager actors Tim Russ, Garrett Wang and Ethan Phillips.
'Fan Film Factor' Report
Blogger Jonathan Lane, of FanFilmFactor.com, recorded a video of the incident:
I heard the guy on the other side mention

Prelude to Axanar

and how each of the actors on the stage had appeared in fan films themselves. How did they feel about the current state of PR…? The fan was never allowed to finish his question, but I recorded Creation founder Adam Malin's response.

1)
Video shot by blogger Jonathan Lane of a panel at the Star Trek Las Vegas 2016 convention.
In the video, Malin is heard to say:
We're gonna pass on that question because there's a lot of controversy and discussion regarding it and a lot of confusion, and we're not really in a position to have an appropriate discussion about it in this forum. So if you wouldn't mind, we're going to pass on that question. Thank you. Not that we have an opinion in either direction 'cause we don't. But this isn't the right forum for it. So forgive us for that.

2)
A Polarized Fandom
Given the polarization in fandom by the Axanar copyright infringement lawsuit brought by CBS and Paramount, Lane stated he understood why Creation "would not want to wander into the minefield of fan film discussions."3)
Lane is an Axanar supporter leading "Project Small Access," a partial boycott of the upcoming CBS series Star Trek: Discovery to protest the fan film guidelines announced by CBS in June 2016. The project was announced on the Axanar website where Lane complained the guidelines would "essentially obliterate nearly all … Star Trek fan films."4)
Anonymous Celebrity Cites 'Gag Order'
Lane went on to report his conversation with an unnamed Star Trek celebrity in the convention's autograph room, whom he had sought out for their opinion on the new fan film guidelines' prohibition on fan productions employing former Star Trek actors:
One of the celebrities, who asked to remain anonymous … shared with me that they would very much have liked to talk to me about fan films because of all the great work that was being done on them. But they couldn't because Creation had put a gag order on the topic of fan films.

5)
Instead, the anonymous celebrity said they were instructed to change the topic if fan films came up. This directive, they told Lane, came from Creation through their agent. Supposedly, Creation staff, dressed as fans, were patrolling the autograph room to ensure compliance, the unnamed source said.
The guidelines offer "a brave new frontier, an official, permitted outlet" for fan films at future conventions, including exhibits, screenings and fundraising there. — CBS Vice President John Van Citters
While Lane wrote that "Creation is well within their rights to impose this restriction" at a privately held event, it still seemed to run afoul of what he termed the "spirit" of free speech.
Another unnamed actor asked about the restriction told Lane "they'd rather not talk about that subject [fan films] because it's kind of a hot button issue."6)
A Temporary Measure?
The so-called gag order may not have been absolute, however, as Lane reported the following day that Star Trek cast member Walter Koenig discussed his fan film experiences, including Renegades, a fan film shorn of its Star Trek references in order to continue production without running afoul of the new guidelines.
Lane also reported on references to Axanar in a performance by the band The Roddenberries, and the formal recognition of Star Trek Continues cast members Vic Mignogna (Kirk) and Chris Doohan (Scotty) in the audience. "So much for the new 'no talking about Star Trek fan films' policy at Creation cons," Lane wrote.7)
Peters Asked Not to Appear in Axanar Wear
Lane also reported that Axanar producer Alec Peters claimed Creation co-founder Gary Berman had asked him not to wear any Axanar T-shirts or costumes during the convention. The restriction, Peters told Lane, didn't appear apply to other fan series; Mignogna was seen wearing a Star Trek Continues T-shirt. Of course, no other production is being sued.
Fan Films' Future Presence at Cons
See also: CBS Official Explains Fan Film Guidelines
It is likely, in fact, that the so-called ban on discussing fan films may be tied only to the Axanar lawsuit and the hot button issue it represents among fans; apart from the lawsuit, the guidelines create a friendlier relationship between CBS and fan productions.
For example, fan films will be welcomed at future conventions in exhibit halls and on movie screens, CBS Vice President John Van Citters said shortly after the release of the fan production guidelines.
Van Citters said he considered the opportunities afforded by the guidelines "a brave new frontier … an official, permitted outlet" granting permission for fan films to be screened at official conventions, and for filmmakers to exhibit and fundraise there.8)

---
Keywords