Questions Over Axanar-Backed Trek Museum Fundraiser
Table of Contents
A LAST-DITCH GoFundMe effort backed by Axanar to save a Canadian Star Trek museum successfully concluded on October 3, 2017, amid questions about the CBS-licensed museum's connections to Axanar, saddled with its own troublesome past regarding crowdfunding and financial mismanagement.
$10,000 Raised
Posted by Axanar supporter and surrogate Reece Watkins, the GoFundMe effort initially sought $10,000 on behalf of the well-reviewed Drumheller, Alberta-based Trekcetera Museum, with 145 donors contributing $5,521 by the time the campaign closed.
According to Axanar producer Alec Peters, the museum had secured another $5,000 on its own from unnamed sources, successfully raising the needed funds.1)
Trekcetera Thanks
AxaMonitor attempted to reach the museum operators to confirm the financial claims in Watkins' GoFundMe campaign about its emergency need to make a loan payment. While they did not answer our email, (see "Unanswered Questions by Trekcetera"), Trekcetera eventually acknowledged receiving the GoFundMe money on October 4, singling out Axanar's Peters and Watkins for thanks.
Thanks to all the Star Trek fans who came to our aid over the past day and a half. We received their generous contributions this morning via PayPal and are now able to focus on making Trekcetera Canada's best Star Trek and vintage TV museum! To Reece, Alec and all our fans who provided moral and financial support: "Live long and prosper." And thanks.

2)
Axanar Connection?
Previously, neither Trekcetera's Facebook page nor its website mentioned the ostensibly third-party GoFundMe effort or the need for a big cash payment to save it from defaulting on its debt.
Legal Connection to Axanar PR Director
UPDATED with replies from Axanar spokesman Mike Bawden.
While the GoFundMe effort was not formally operated by Axanar, its PR director, Mike Bawden, agreed to handle the financial transaction between GoFundMe and Trekcetera: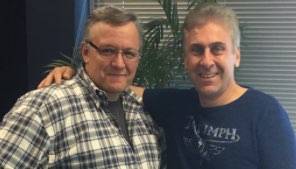 I offered to help get the money to the guys in Canada because [they] don't have a U.S. bank account that can receive the funds raised via the GoFundMe campaign. I've already sent an amount of money to the museum's PayPal account today that is equal to what GoFundMe is sending to me next Monday, so they can cover their immediate cash needs. The amount I'll be receiving from GoFundMe, I assume, already has the credit card processing and related fees owed to GoFundMe taken out of it, so all I'll be out is the accumulated interest for five days' "float" on the money — I'm happy to write that off.

3)
Bawden explained he had sent all the money raised except for the fees charged by GoFundMe, and that the tax liability for the money was a non-issue: "As for tax liabilities I may or may not be incurring, don't worry about it. That's not really anyone's business but mine."4)
« CBS can't help but go after fans. CBS threatened Trekcetera that they would pull their license if they didn't take down the campaign. Too late CBS, they already made their goal. » — Unsubstantiated claim by Axanar producer Alec Peters
About Trekcetera
Originally established in Vulcan, Alberta, Trekcetera moved a year before to the larger tourist town of Drumheller, about 85 miles from Calgary, in an effort to attract more visitors. According to Watkins' GoFundMe page:
The move has been a huge boon to the museum, which, in the first five months in Drumheller, has TRIPELED [sic] their entire gross income from 2016 in Vulcan and is already profitable. And with a huge Dinosaur museum in town that draws almost half a million people a year, Trekcetera expects to keep growing.

5)
Restructuring Debt
Despite Watkins' pronouncement of profitability from the tripling of museum revenue, his GoFundMe campaign claimed Trekcetera was saddled by debt from its relocation and needed an immediate $10,000 cash infusion in order to restructure its debt with its lender. Watkins claimed museum proprietors Devan J. Daniels and Michael Carl Mangold had only until October 2 to come up with the money to keep from defaulting on its loan.6)
Friends of Trekcetera = Axanar?
Despite any verification from the museum's owners, the Axanar Facebook page, operated by Alec Peters, issued a clarion call for money, as did the Axanar Production website, claiming the crowdfunding effort was led by a group called "Friends of Trekcetera."
Members of that group were unnamed except for Watkins on the GoFundMe page. Later on October 2, the phrase "on behalf of Mike Bawden" appeared on the page. Bawden is Axanar's director of public relations. Also publicly seeking support for Trekcetera was blogger and Axanar surrogate Jonathan Lane on his Fan Film Factor website.
The "Friends of Trekcetera" moniker appeared to obscure the fundraising efforts from Axanar's own, which had raised nearly $2 million to produce the Axanar feature film, only to see the money largely spent on activities resulting in no film.
Former Fan Questions Fundraiser
That history caused members of Axanar's Facebook fan group to call Peters' involvement into question. Dave Kroll was one of several who criticized Peters' backing of the Trekcetera funding effort:
Due to the fact that you are advertising this, it must be a scam to steal money from people therefore I will not support it and let [Trekcetera] know that if they wish to succeed in their venture, then your company should have nothing to do with it! … I'm that special someone that invested money expecting to revive a promised product, only to find out [Axanar] had no idea what they were doing, and are now making a profit with the money I invested and never provided the promised product.

7)
Claim of CBS Interference
A lot happened during the short fundraiser, with Peters claiming CBS, which had sued him for copyright infringement, interfered with the Trekcetera effort, and Peters' claim the museum had secured $5,000 from other unnamed sources, reducing the amount needed from GoFundMe and bringing the campaign to an end on the night of October 3.
Of CBS' interference, Peters said:
Typical of CBS, they contacted Devan and Michael and said to take the GoFundMe down. Of course, they didn't put it up, fans did. And naturally, CBS can't help but go after fans. CBS threatetned Trekcetera that they would pull their license if they didn't take down the campaign. Too late CBS, they already made their goal. These guys are giving CBS a license fee and CBS bullys [sic] them when they need money. Isn't it amazing that Axanar cares more about CBS licensees than CBS does?

8)
Unsubstantiated Claim
Peters provided no documentation of the alleged CBS contact with the museum's operators. Peters' comments characterized the alleged intervention as an action against fans rather than potentially exercising an option of the licensing agreement between two business partners. Peters, of course, has generally described the copyright infringement lawsuit against him as an attack on all fans.
AxaMonitor sought comment from CBS but was unable to reach officials late on October 3.
Unanswered Questions by Trekcetera
These are the questions AxaMonitor asked October 2 of museum operators Daniels and Mangold. They had not replied more than 48 hours later.
OFFICIAL ASSOCIATION Given Axanar's record of raising nearly USD $2 million yet not producing its promised film nor crowdfunding perks, I was wondering if you have officially associated your museum — a CBS licensee — with this fundraising effort.

ACCOUNTABILITY Do you have an arrangement with Mr. Peters or Mr. Watkins regarding how money they raise will be disbursed by them to you, how accountability for funds raised and disbursed on your behalf will be assured to donors and to your licensor, CBS?

AXANAR BACKING Are you comfortable officially associating yourself as a CBS licensee with a group that was sued by your licensor for copyright infringement?

PERKS

The GoFundMe also includes an offer to "help [you] with the fulfillment of perks" — even though none are mentioned on the GoFundMe page, and Axanar's public

record on perk fulfillment

is less than exemplary.
Despite Watkin's explicit mention of perks, Axanar spokesman Bawden said the offer was irrelevant: "I have no idea about anything concerning perk fulfillment. As far as I know, there are no perks to fulfill."9)

---
Keywords