Scheduling Conference
LAWSUIT PRIMER Get an overview of the copyright lawsuit, including a timeline of the case, as well as downloadable pleadings made by the plaintiffs, CBS and Paramount, and defendants Alec Peters and Axanar Productions Inc. » Lawsuit Primer
On March 4, 2016, federal Judge R. Gary Klausner issued a standard pre-trial order setting a scheduling conference on May 9, at which the two sides must agree on a plan for discovery, and also explore one of several alternative dispute resolutions as a means to avoid going to the time and expense of trial.
CASE STATUS January 20, 2017 Axanar settles its copyright infringement lawsuit, admitting it overreached; both sides file for dismissal of the case in U.S. District Court. || January 9 Judge holds final pre-trial conference with attorneys for both sides to set final terms for trial — also a last-ditch effort at settlement || January 4 Judge throws out Axanar's fair use defense || Up-to-the-minute news and views on Twitter @AxaMonitor
Both sides submitted initial discovery plans as part of the May 2 joint statement ordered by Klausner ahead of the scheduling conference, where the defense's pending motion to dismiss the case is also to be heard.
According to attorney Janet Gershen-Siegel, one of the hosts of the popular Star Trek podcast, The G&T Show, the order1) calls for:
Filing a

joint statement

to the court including "a brief factual summary of the case, including the claims being asserted." The statement as filed also proposes a schedule leading up to a May 9, 2017, trial.

Plaintiffs "to give notice of the scheduling conference immediately to each party that makes an initial appearance in the action after this date." While that includes, potentially, the as-yet-unnamed

Doe defendants

, the May 2 joint statement states no additional parties are planned to be added to the suit, though both sides have until June 8 to add any.

While the notice to appear might also have included additional plaintiffs if they have an ownership interest in the alleged copyrights,

2)

none were included in the joint statement.
What Happens at the Conference
Gershen-Siegel says the schedule conference serves two purposes: "to schedule and hammer out discovery," and to see if the case can be resolved short of trial.3)
According to Cornell University's Legal Information Institute,4) at any pretrial conference, the court may consider: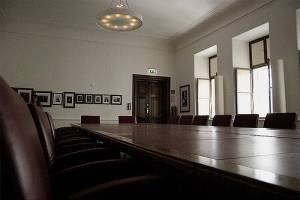 Simplifying the issues, and eliminating frivolous claims or defenses.

Amending the pleadings.

Obtaining admissions and stipulations about facts and documents, and ruling on admissibility of evidence.

Avoiding unnecessary proof and cumulative evidence, and limiting the use of certain testimony.

Determining the appropriateness and timing of summary adjudication.

Controlling and scheduling discovery.

Identifying witnesses and documents, scheduling filing and exchange of pretrial briefs, and setting dates for further conferences and for trial.

Referring matters to a magistrate judge or a master (an authority appointed by the judge to make sure his orders are actually followed. They are often employed in complex civil actions where their expertise is needed to assist the court).

5)

Settling the case and using special procedures to assist in resolving the dispute.

Determining the form and content of a pretrial order.

Adopting special procedures for managing potentially difficult or protracted actions that may involve complex issues, multiple parties, difficult legal questions, or unusual proof problems.

Ordering a separate trial of a claim, counterclaim, crossclaim, third-party claim, or particular issue.

Ordering presentation of evidence early in the trial on a manageable issue that might, on the evidence, be the basis for a judgment as a matter of law or a judgment on partial findings.

Establishing a reasonable limit on the time allowed to present evidence.

Facilitating other ways to bring just, speedy, and inexpensive resolution of the suit.
Alternative Dispute Resolution
See also: Alternative dispute resolution
The judge's order also directs both sides to explore possible avenues for alternative dispute resolution, in order to avoid the time and expense of moving to trial. There are three possible types of alternative dispute resolution the judge is requiring the parties examine:
District or magistrate judge is assigned to the case for such settlement proceedings.

A neutral mediator chosen from the court's mediation panel.
Gershen-Siegel explains why mediation is often recommended:
The advantages to mediation are: it's cheaper and faster. The disadvantages are: no jury trial, and it really doesn't set a precedent.

7)
---
Keywords