THE STUDIO that donors built: Axanar's abandoned California studio remains empty, its landlord having tragically passed away. Photo/Axanar Productions
Axanar's Abandoned Former Studio Continues to Flail
Landlord Dies Soon After Announcing the Empty Property Was Up for Sale
Table of Contents
VALENCIA, Calif. — In a tragic coda to OWC Studios head Alec Peters' failed attempt to establish his own movie studio here, his former landlord died unexpectedly in January 2018 after spending months trying to entice someone to realize the former warehouse's potential as a production facility.
Danny Luh, 54, a well-known businessman in the Santa Clarita Valley, had posted a video on Instagram in December, appealing to his friends to help find a buyer or tenant for the building Peters had abandoned, unable to keep up payments on his three-year lease after sinking nearly three-quarters of a million dollars to turn the facility into a commercial studio.
Abandoned Studio
That money had all come from the million-dollar-plus crowdfunding campaigns that were supposed to have paid for the Axanar feature film. Instead, Peters spent that money elsewhere without a single frame of Axanar ever being shot inside what was once known as Industry Studios.
With donors' money all gone, Peters found himself unable to continue to pay the $15,000 a month for rent and overhead, forcing him to renegotiate his three-year lease with Luh. The landlord allowed Peters an early exit in exchange for the hundreds of thousands of dollars in improvements Peters made in his futile attempt to build his own studio.
The End of Industry Studios
The commercial studio had gone through various names during Peters' lease, first as Ares Studios, then Valkyrie Studios and finally, Industry Studios. Though Peters sometimes denied the facility was a commercial studio, he also publicly called it the "endgame" of his effort to produce Axanar, using donors' dollars to create a studio he could use to make for-profit content: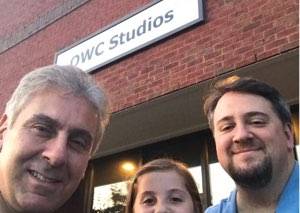 "The studio is the endgame. The idea is we create a studio that we can then [use to] produce our own original content, our own movies."

1)
Failed Indiegogo to Save Studio
Peters appealed to his vaunted 15,000 Axanar supporters to donate $200,000 to put the foundering Industry Studios on solid financial footing. Barely more than 300 contributed $22,020 to the failed effort. Peters instead diverted those funds to pay for moving Axanar Productions' belongings, including its partially constructed sets, to a warehouse in Lawrenceville, Ga. Peters styled the facility as OWC Studios, its $5,000 monthly rent subsidized by the technology company, Other World Computing.
Silencing Dissent
When Peters announced Axanar had to abandon the facility donors had paid for, many supporters bristled, posting their dismay on Axanar's Facebook pages. As has become Peters' standard operating procedure, he deleted those posts.
---
« So the studio is being vacated by Axanar Productions, which used donor money to pay the rent. … Those of us who donated to Axanar get no opportunity for a refund as the money was spent on rent for a studio that will never be used for Axanar, on assets that will be provided to the landlord, and on sets that will be moved somewhere else. » — Axanar fan Carl Norman, April 2017
Daniel Luh, RIP
Luh died January 11, 2018.2) He owned Cosmic Sales, a local computer hardware dealer for 22 years. He was also a host for the BalaCore Fitness Hour on radio station KHTS since 2014.3) Luh is survived by his two children. A family friend is trying to raise $25,000 via GoFundMe to financially assist his children and defray funeral expenses.
After Axanar
After Peters abandoned his California warehouse, Luh took advantage of the building improvements to make a go of the facility as a soundstage (except Peters had run out of money before he could soundproof the facility).
Flash Point Studio
For some time in 2017, management of the facility was turned over to a company calling the facility Flash Point Studio, listing it on the Creative Handbook website, an index of production resources in California. The Flash Point listing no longer exists but can be viewed on the Internet Archive.
The phone number in that listing, (213) 276-9358,4) belongs to a company named Jem FX, a Valencia-based special effects, design and fabrication company, which appeared to have managed the former Industry Studios for some part of 2017.
Luh Studios
By December 2017, the facility was renamed Luh's Studio, according to an Instagram video posted by Luh, in which he appealed to his followers to help find someone to acquire the empty facility. Luh died about five weeks later.
The Deal
After losing the California studio, Peters nonetheless assured his donors that he'd struck a favorable deal with Luh. As explained in his surrogate's blog, Fan Film Factor:
Alec gets to break his lease eight months early with no financial or legal penalty. Industry Studios will continue on with the same name and identity (possibly even some of the same people) and honor its commitment to the fan productions

Personal Space

and

Cholo vs. Vampires

to use the facility. When the time comes to film

Axanar

, Alec and his team will be able to make use of Industry Studios (and that giant green screen and lighting grid).

5)
The Aftermath
Luh shed the Industry Studios name and identity pretty quickly after Peters vacated the premises. And Peters' assurance to his donors that he'd get to use the facility to shoot the short film (nicknamed "Axanar Lite") appeared to have dissolved less than a year later.
No California Shoot for Axanar Lite?
Axanar spokesman Mike Bawden had not heard about Luh's passing when contacted by AxaMonitor but was surprised to hear about Peters' plans to shoot at least some of Axanar Lite in his old studio:
As for how Danny's death or the possible sale of the studio space in Valencia will impact the production of the two, 15-minute

Axanar

segments, I don't know. I haven't seen a shooting schedule yet. The last time I spoke to Alec, we discussed plans for shooting in Georgia and nothing was said about shooting in California — although just because we didn't talk about it doesn't mean it won't happen.

6)
Bawden promised to update Axanar's online press center with Axanar Lite's shooting schedule and filming locations when plans become available.7)
Will Reimbursement Promise Survive?
When he announced Axanar was abandoning California, Peters tried to reassure donors by claiming Luh had promised to reimburse him, upon successfully renting, selling or leasing the warehouse, for at least some of donors' money he'd spent upgrading the facility:
Axanar will be reimbursed for some of the build out we did. The details of this will be worked out, but Danny wants us to leave the lighting grid and the power upgrades as they are essential to making the facility work as a functioning commercial sound stage. And of course, while we can't take build out [

sic

] such as the green screen or the office space we built, Danny sees the value of what we put into the studio and will help us all out in the long run.

8)
At the time, Peters never produced any documentation about Luh's promised reimbursement, and it's unclear the details were ever worked out.

---
Keywords