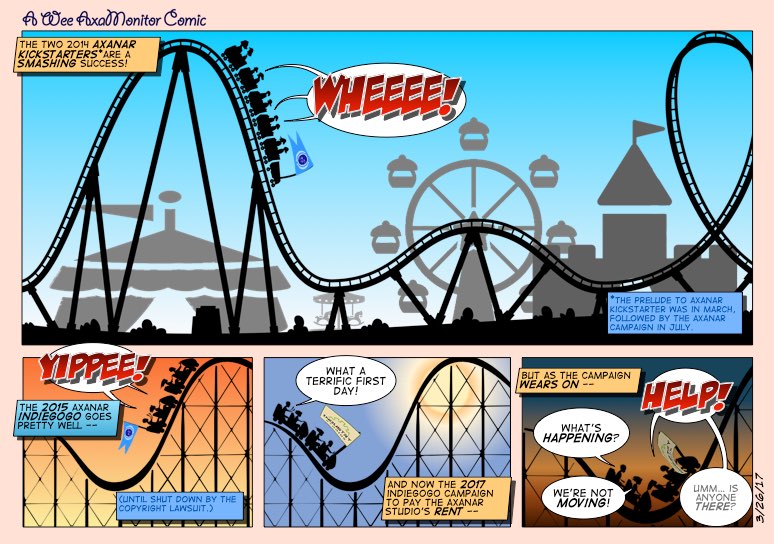 LACK OF SUPPORT Just as in Axanar's failed 2017 Indiegogo campaign to save its beleaguered studio, a poll of its staunchest fans reveals little desire for a monthly subscription to pay for Axanar's production.
Trial Balloon for Axanar Funding Fails to Fly
A resounding No from fans to support Axanar by charging for Facebook group membershp
IT'S NO SECRET that OWC Studios head Alec Peters faces an uphill battle to raise money to produce the two Axanar short films allowed under his 2017 settlement with CBS and Paramount in the copyright infringement lawsuit.
Prohibited from public fundraising, particularly via crowdfunding platforms like .Kickstarter and Indiegogo, Peters must seek an estimated $200,000 from private sources to complete Axanar Lite. That's after spending $1.7 million he raised, largely from crowdfunding Star Trek fans, without ever producing the Axanar feature he had promised.
Members of the Axanar Fan Group on Facebook gave a resounding No when asked to answer a poll posted June 20, 2018, by Peters associate Reece Watkins:
Facebook is said to be experimenting with the idea of exclusive Groups that require a monthly subscription fee to join. Would you be willing to subscribe to a separate, exclusive group in order to help raise the money to complete Axanar?

1)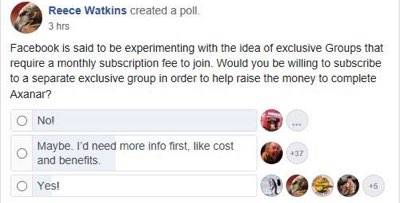 Money for Axanar
The poll results demonstrated little interest in having to pay a monthly fee for the privilege of supporting production of Axanar Lite, with more than 100 members giving a definite No, 37 saying maybe and only five saying yes.
If Axanar insider Watkins had hoped for the poll to be a trial balloon for possible funding of Axanar Lite, it failed to take off. Unsurprisingly, as generally happens in the Axanar Fan Group, bad news is summarily deleted. Twenty-four hours later, the poll and its disappointing results were gone.
See also: Axanar's Crowdfunding Effort to Save Studio Lacks a Crowd
This is the second time that Peters' vaunted fans (more than 8,000 alone in the Axanar Fan group on Facebook) have failed to come through. In his attempt via Indiegogo to save his soundstage — a failed three-quarter million-dollar effort paid for by fans — barely more than 300 coughed up $22,000 that ended up paying for Peters to abandon the California studio and set up shop outside Atlanta.
Content-Dependent
The program is an effort to allow group administrators the ability to earn money from producing premium content, similar to the business models of Patreon and OnlyFans.
However, those models depend on the constant creation of content, not a single product like a movie, to justify patrons' monthly subscriptions.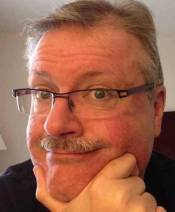 The Challenge of Creating Premium Content
Delivering content has proved to be a challenge for Axanar, however, as its donors have been waiting four years for any kind of film. And if such a Facebook group were to depend instead on the Axanar Fan Group's current admins, they have no track record for producing the kind of creative, premium content patrons have come to expect from creators supported via Patreon and OnlyFans.
Legal Hurdles
Such a revenue-generating effort would face potential legal hurdles as well. Under CBS' fan film guidelines, producers are not allowed to monetize their productions in any way; in addition, the copyright lawsuit settlement specifically prohibits Axanar from public fundraising.
One might argue that such fundraising would be done publicly by fans themselves via Facebook, independently of Axanar Productions. Such an independent group is theoretically not bound by the settlement's strictures. CBS, however, might consider such an effort an attempt by surrogates at an end-run around Axanar's funding restriction.
The studio's dim view of Axanar creating revenue streams based on Star Trek's intellectual property was one of the factors leading to the lawsuit in the first place.
Following Footsteps of Patreon, OnlyFans
In its
June 20 blog post, Facebook announced its pilot program would allow group administrators to charge a monthly fee, ranging from $4.99 to $29.99, to offer exclusive and premium interactive content and interaction.
PATREON is a service that allows fans to become patrons of creators' work, entitling them to exclusive content.
In its coverage of Facebook's pilot program, The Verge noted:
While in the past, Facebook groups have always been free, charging for a membership might heighten the sense of exclusivity and make a group feel more special to be in. A paywall may also just drive more people away.

2)
The feature is currently an experiment on mobile platforms, according to the Verge, with Facebook not taking a cut of the subscription fees — yet. However, Apple's App Store and Google's Play Store can take a percentage as part of their standard in-app sales policies.
"This is just the beginning for Facebook's efforts to monetize groups, which, unlike the News Feed, does not rely on advertising," the Verge stated.

Keywords
2)
Shannon Liao, "Facebook Groups may soon charge monthly subscription fees for access,"
The Verge, 6/20/18
.