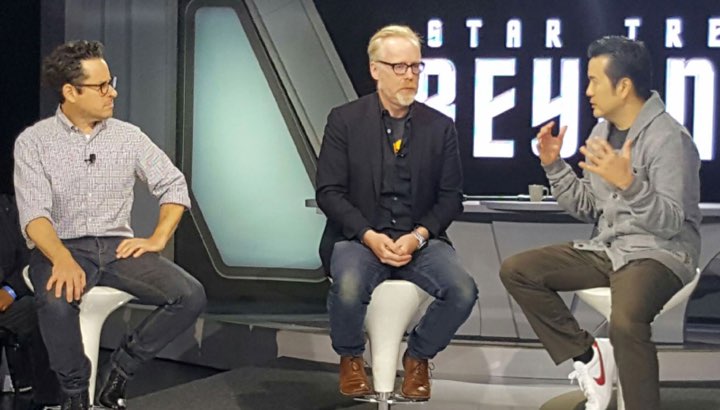 TAKING THE STAND? Star Trek producer J.J. Abrams (left) and director Justin Lin (right) at the May 20, 2016, Star Trek Beyond event at which they proclaimed support for fan films and wished for an end to the Axanar lawsuit.
Judge's Ruling on Evidence More Tentative Than Thought
Axanar Defense Makes Last-Ditch Effort to Include Testimony from J.J. Abrams and Justin Lin
Table of Contents
Federal Judge R. Gary Klausner's rulings on almost two dozen motions to throw out evidence in the Axanar copyright lawsuit turn out to be more tentative than originally thought, sources revealed January 18, 2017.
Klausner's ruling the week before appeared to dispense with the motions to exclude evidence originally filed December 16. Meanwhile, the defense submitted a new brief January 18 asking the judge to allow testimony from Star Trek producer J.J. Abrams and director Justin Lin in the part of the upcoming trial where the jury will set damages if they find in favor of the plaintiffs, CBS and Paramount Pictures.
'Tentative' Means Tentative
A court observer told AxaMonitor that the judge made his rulings — marked "tentative" in the minutes from the January 9 pretrial conference — based only on the motions submitted so far.
See Judge Rules on Excluding Evidence and Axanar Seeks to Exclude Major Evidence, Witnesses and Axanar Opposes Studios' Attempt to Exclude Evidence.

Following the original motions, attorneys for Axanar and for the studios filed objections January 5 to one another's efforts to exclude both evidence and testimony from certain witnesses.
Last Chance to Sway Judge
The judge evidently marked his rulings as tentative because attorneys have one more round of rebuttals to one another's objections to exclude evidence and witnesses — a final chance to sway Klausner. His tentative rulings at best gave attorneys some idea of the direction in which the judge was leaning.
Those replies are due January 21, and the lawsuit remained on track to go to trial January 31.
Shoehorning Evidence
Meanwhile, in what Klausner may perceive as an attempt to do an end run around his tentative ruling declaring Abrams' and Lin's testimony irrelevant, the defense filed a new brief arguing that the two directors provide evidence that would make a difference in the damages phase of the trial, should the jury find Axanar indeed infringed on Star Trek copyrights.

After the Fact
In his tentative ruling, the judge appeared to buy the plaintiffs' argument that comments made by Abrams and Lin — who are not employees of the studios nor spokesmen on their behalf — had no bearing on the case since they came after lawsuit was filed.
In their new brief, the defense argued defendants Alec Peters and his company, Axanar Productions, "in creating the Axanar Works, Defendants acted in good faith and with the reasonable belief that they were operating within the enduring tradition of accepted and celebrated Star Trek- inspired fan fiction," as allegedly espoused by the two directors.1)
Peters' Work With CBS
The defense also sought to change Klausner's mind that Peters' history of volunteer work for CBS setting up prop auctions was irrelevant to the case. The defense hopes to decrease the amount of damages if they can show Peters was did not willfully infringe on Star Trek given his history with the studio.
DOWNLOAD the defense's brief asking the judge to allow testimony from J.J. Abrams, Justin Lin and two Axanar fans. (58K PDF)
The defense needs to make that case in order to avoid high statutory damages for which Axanar may be liable, increasing from $750 to $150,000 per infringement.
Rejected Witnesses
Axanar also asked Klausner to reconsider his rejection of several witnesses he found extraneous to the case, namely:
Professor Henry Jenkins, who was to testify regarding the studios' "history and practice of tolerating and sanctioning fan fiction, fan film, and other fan uses of aspects of Star Trek; the social value and productivity of fan creations; and the perceived benefits to Plaintiffs of fan works."

Reece Watkins, an Axanar donor and a single Star Trek fan, whose testimony was expected to reflect the experience of all fans with regard to how Axanar inspired him to buy more official merchandise.

Blogger Jonathan Lane of the website Fan Film Factor, Axanar's primary news organ, who was expected to testify the studios "arguably embraced the free promotional value of a robust fan production tradition, which is relevant to Defendants' willfulness, revenues lost by Plaintiffs [and] the potential for discouraging Defendants' conduct."

2)
Next Steps
It is not clear how the judge will deal with the defense's new motion. Presumably, CBS and Paramount's attorneys will respond and Klausner will rule before the point in the trial where damages come into play.