Harassment Accusations Against Axanar Critic Backfire
Hundreds Leave Axanar Facebook Group After OWC Studios head Alec Peters Airs Personal Grievances
Table of Contents
An effort by OWC Studios head Alec Peters to publicly accuse an Axanar critic of stalking and sexual harassment backfired as hundreds of fans abandoned the main Axanar fan page on Facebook.
Peters' posts happened to appear a day after AxaMonitor revealed he had given away Axanar merchandise potentially worth hundreds of thousands of dollars to an online bookseller to be sold for her own profit.
The Accusations
WHY NO NAMES? This article does not name the person alleging she was sexually harassed, nor does it name the person accused. In the case of the former, the substance of her allegations are for her to pursue via legal channels. In the case of the latter, AxaMonitor chooses not to further spread potentially defamatory material. The allegations are not what AxaMonitor is covering; this story deals with the effect on Axanar fandom as a result of OWC Studios head Alec Peters using Axanar's Twitter and Facebook groups to publish unsupported and serious allegations.
— Carlos Pedraza, AxaMonitor Editor
On October 28, 2017, Peters posted his accusations — without any evidence — on at least two large Facebook groups, on Twitter and on the Axanar website.
Supporters Admonish Peters
Over the weekend, observers noted the exodus from Facebook groups controlled by Peters, who was excoriated by followers for using the combined 94,000-member Axanar and Orville groups as a platform to air his personal grievances. Axanar's Twitter has more than 86,000 followers.
Deleted Posts, Apology
By October 30, Peters appeared to have deleted the Facebook and blog posts — but not the tweets — apologizing to fans for offering "too much information" and vowing instead to pursue his allegations "through legal channels."1)
No comparable apology was offered by Peters on Axanar's Twitter feed as of the time of this post.
The Timing
Peters' accusations came the day after AxaMonitor posted an article about him giving hundreds of thousands of dollars worth of Axanar merchandise to an online bookseller to peddle for its own profit. ("Website Sells Axanar Merchandise for Big Potential Profits")
The merchandise was manufactured with money fans had donated to produce the Axanar feature film.
---
« I love Axanar, however the venom gets thicker and thicker over time it seems. » — Axanar supporter Phil Bates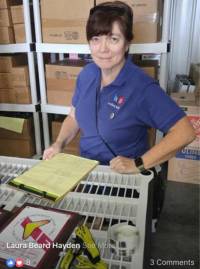 On Facebook, Axanar critics wondered about the timing of Peters' widely publicized harassment allegations on the heels of the critical merchandise story and amidst the recent media spotlight on sexual harassment in Hollywood.
The Accused
He named a VFX artist on the FOX-TV show, The Orville, who he claimed "has stalked and sexually harassed … in public & online" his girlfriend, whom he described as "an Axanar team member."
Though Peters claimed he'd referred purported evidence to his unnamed legal counsel, he also appealed to FOX and Orville producers to take unspecified action against their employee.
The FOX employee is an ardent critic of Axanar and has often butted heads with Peters and his girlfriend publicly and via Facebook Messenger.
The Objective
Despite Peters' intimation of legal action against the FOX employee, he revealed on Twitter he was really seeking sanction against the employee by the network or Orville's producers, including Seth MacFarlane, whom Peters tagged in one of his tweets:
@AxanarFilm Oct 28
@TheOrville Please follow the issue with your VFX employee who is stalk [sic] and sexually harassing a member of our team. This stalker has no place on the team of a show we love.2)
@Axanarfilm Oct 28
Replying to @MrOldfield2U and 2 others
In this day and age, making something public on social media is often the only way to get a corporation to take action.
@Axanarfilm Oct 28
Replying to @xucaen and @SethMacFarlane
Thank you for helping spread the word.
The Defamation?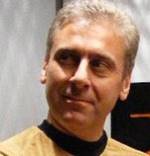 Over the weekend, Axanar critics and supporters alike worried over the defamatory nature of Peters' declaration the FOX employee had stalked him and his girlfriend and sexually harassed her, especially given Peters' broad reach on Facebook and Twitter.
The Objections
While many of Peters' followers supported his public accusations, a surprisingly large number took him to task for exploiting the large Facebook fan groups for his personal grievances.
Eric Jackson
If you submitted this to your lawyer, then why are you posting about it here on Facebook? This is also a matter of harassment and character assassination. If you truly have a case then let the courts handle it. Don't look to public shaming to do it for you.
Phil Bates
This page gets angrier and angrier every day. I've donated pretty healthy amounts to your project, I love Axanar, however the venom gets thicker and thicker over time it seems. If what you say is true, it's a matter for authorities. It has nothing to do with this project, however.
The Legal Exposure
One Axanar supporter, attorney Pete Richey, warned Peters he was treading on dangerous legal ground:
I am not your attorney, but I am one and

you seem to have no concept the jeopardy you are putting yourself in.

It's like watching a car accident. … I am sympathetic to the allegations, but this post opens you and your organization to a defamation lawsuit, which if I was his lawyer I would encourage him to file Monday morning. I am sure your heart is in the right place, but he could have you shut down by close of business Monday. This is not the way to go about this.

3)
'Too Much Information'
In spite of the criticism, Peters, who often boasts he is an attorney "by training" — he has never practiced law — fiercely defended his use of the Axanar and Orville platforms he controls:
Garrett Mobley
I'm a fan of Axanar. But regardless of if this is a poor taste post, it's a legalistically foolish one.


Axanar [Alec Peters]
Yeah Garrett, well thank God I am an attorney then. And exposing sexual harassment is never in poor taste. Unless you are a man of course and think "there is a time and a place." Frankly, that attitude is part of the problem.4)
That changed by October 30, when Peters deleted his posts — and the accompanying critical comments that had piled up — on the Orville and Axanar fan pages on Facebook. He posted this statement:
My apologies to you for posts and comments I made this weekend that may have offered "too much information" about the stalking and harassment my girlfriend … and I have been dealing with the past year and a half.

Suffice to say, I take threats against me and those I care about personally and will now pursue those through legal channels.

This will be my last post on this subject until we have a resolution.

Back to making Axanar!

5)
Back to Axanar?
One of the fan group members cynically responded to Peters' apparent apology: "I didn't know Axanar was being made."6)

---
Keywords