Table of Contents
Axanar Scrambles to Ship Perks
Perk Problems
An AxaMonitor report, "What's Up with the Perks?", explored the reasons behind Axanar's:
« People are gonna have the Kickstarter patches, and people are gonna be excited about it. » — Axanar producer Alec Peters
Placing a higher priority on fulfilling new merchandise orders from its online store than old Kickstarter rewards.

Undisclosed proceeds

from a PayPal link added to its Kickstarter page after the campaign closed, via direct donations solicited on its own website and from purchases of Axanar merchandise made on its online store.
Acknowledging the Problem
In a May 27, 2016, blog post, Axanar spokesman Mike Bawden admitted to the problem in shipping available rewards to Kickstarter backers:
The timing, the sense of urgency, and the delivery of perks to a backer is a top priority. That's why we're so focused on getting this thing working at Axanar. We have GOT to get this problem solved.

1)

PATCHES The languishing Kickstarter backers' patches are the first four pictured above. The fifth is from the Axanar Indiegogo and the Starfleet Disaster Response was available for Axanar's "special events."
Peters added that development of its fulfillment software by McIntosh fell short:
Ares Digital just didn't materialize as fast as we expected it would, and we've had all these perks packed up for months, ready to go out. We just needed to generate the thousands of address labels, and we couldn't because the technology wasn't finished. It's been incredibly frustrating to have them trapped in the system, unable to be printed. These patches should have been out last summer!

2)
New Solutions, Old Problems
Peters announced a new chief technology officer had replaced McIntosh in order to complete development of Ares Digital.3) However, outgoing technologist McIntosh disputed Peter's description of Ares Digital's state of readiness:
He's not wrong in the respect that the hold-up was firmly due to my not having done the queries against the database. But, with that said, this is the first I've heard that they're buying Ares Digital — the code and all its bits. I haven't heard boo about it, and since I own the code, and the servers that donors can access is sitting in the next room from me at the moment, and I'm the only one that's ever had access to any of it, it's fairly common sense that I'd be in that loop.

4)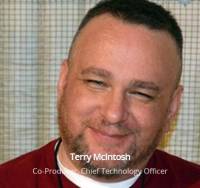 Ending Ares Digital?
In the meantime, Axanar's fulfillment director, Diana Kingsbury, announced on June 6 that donors' access to Ares Digital was about to end:
Just a reminder, folks, that while our tech guys are working on building out the new digital database, you will have limited (and eventually no) access to your old Ares Digital accounts, which are being phased out.
New Donor Concerns
This brought questions from donors apparently unaware that when McIntosh resigned, he effectively took Ares Digital with him:
"Why the switch-over?" donor Brandon Atkinson asked on Axanar's Facebook fan page. "I thought the current digital portal worked great for me."
And Shauny Briggs added, "I must admit all these changes are a bit concerning. I realise that people's priorities change, etc., but to have al the changes when everything is about to be sorted just seems a bit off."
Kingsbury reiterated, "ALL I can tell you is that our new tech team is on the job. … But with an estimated 12-14,000 donors, multiple campaigns and platforms, and dozens of levels, this is no small endeavor."
Starting From Scratch
Indeed, given McIntosh's claim he owns the database and the servers on which it resides, and he hasn't been paid for them, it appears Axanar's "new tech team" is basically starting from scratch:
I haven't heard anything from Alec or anyone else at Axanar that Ares Digital is in play — meaning I haven't received a formal offer to buy the technology. That said, I'm open to it and my terms are modest. I don't know if they have the means to buy it, because I'm going to want a check and not a promissory note.

5)
More Than a Mail-Merge
While many critics have asked why Axanar can't simply do a mail-merge to create shipping labels for waiting donors, McIntosh explained on Facebook that the complexity of the data Axanar has to manage makes fulfillment far more complicated than that:
Terry McIntosh Explains 'More Than a Mail-Merge'

There are eight or so spreadsheets that I can remember off of the top of my head – I've deleted them from my files, since I have no reason to keep them after departing the production – and that isn't counting live data from things like retro packages and the donor store which evolve over time organically.

On top of that there are two years of email and Facebook messages from donors with updates to their info that were manually processed (hundreds of them), such as email and shipping address changes, that have to be factored in, too.

And, as the cherry on top, the original spreadsheets are a mess as they were provided to the production from Kickstarter, Indiegogo, and the bane of my past which is the BackerKit spreadsheet – the latter is a cluster fuck of galactic proportions for technical reasons.

Then, as a P.S., there is a spreadsheet for things like installment plans from the Indiegogo.

So… maybe 20 different data sources and each one has its own unique challenges to not only import in to a database intact, but then it all has to be sanitized, verified as correct individually, and then setup in tables so that each source can be searched against using geeky methods called "joins" which allow say a table of Indiegogo data to be cross sorted with something like PayPal donations and/or the retro packages.

Please believe me when I say that using something basic like a mail merge would be a proper nightmare for everyone… especially the donors… and that was when the data was fresh. After two years… I don't envy their new geek.

6)
Shipping Patches
No matter what, Peters said that shipping donors their patches as quickly as possible was now a high priority:
People are gonna have the Kickstarter patches, and people are gonna be excited about it. And then we will do the same with the Indiegogo patches.

7)
The Remaining Perks
Peters said his new goal was to get donors everything they were promised that didn't depend on the completion of Axanar. Of course, about 20 of the promised Kickstarter rewards rely on completion of the film; fewer than five do not. That doesn't count the Indiegogo perks, none of which have even been manufactured yet.

---
Keywords