TrekZone Spotlight Interview
The Australian news site, TrekZone, published the second part of its video interview with producer Alec Peters, in which Axanar creator Peters bristles when asked to justify expelling questioning donors from his Facebook fan groups.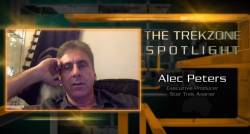 This edition of Miller's TrekZone Spotlight also featured an exchange between Axanar spokesman Mike Bawden and AxaMonitor editor Carlos Pedraza — a give-and-take covering Axanar's fundraising, finances, its alleged non-profit status and for-profit ventures, and other topics.
It also features a testy exchange in which Peters tells host Matt Miller he is only a blogger and lectured him on how a real journalist should cover Axanar as it defends itself in the multi-million dollar lawsuit brought by CBS and Paramount Pictures for infringing on the studios' Star Trek copyrights.

---
Keywords